Put Yourself First As A Mom Using Self-Care
Are you a mom that always puts everyone else first? Although putting your kids and husband first is a noble gesture, you deserve to be put first too sometimes, mama. And you can put yourself first as a mom using self-care.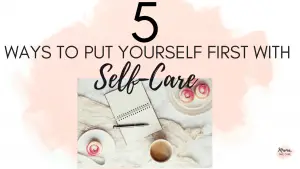 Do any of the following sound familiar?
You let your kids eat off your plate and now you are hungry.
You get everyone else dinner and they are done eating before you even get a chance to sit down.
You buy your kids a new toy although you have needed new socks and shoes for months.
I bet the list could go on and on. Since you are so selfless with your family, you deserve to be taken care of too.
How to Start Putting Yourself First
Unfortunately, we can't make others take care of us, so that leaves one person in charge of your well-being – YOU!
Yes, you are the only one that can start a self-care routine and you are the only one that can make it happen.
So make a choice to choose yourself today and add some self-care to your "To-do" list so you can feel taken care of and loved. Make sure to be kind to yourself.  You can put yourself first today and every day.
What Happens When We Put Ourselves Last?
I'm sure you have heard the old analogy of putting your oxygen mask on first. Although old and probably overused, it still holds true in most cases of motherhood. Why? Because if you are not well taken care of and you start to feel undoubtedly depleted, everyone else in the house dramatically suffers. Trust me, I have been there, precious mama. I have put my sweet family first often, but the mama that presents in return is not always the prettiest version of me.
My family would much rather have the happy, cheerful version of mama. The version where I tell silly jokes and smile radiantly often. Not the resentful side of mama bear that wants to be left alone in tears (and I'm not talking about tears of joy).
What can you do today, so you don't feel that pent-up frustration?
Here are five tips to help you put yourself first as a mom using self-care. And if you are the mom of a newborn, just give yourself whole-hearted grace. Those first years can be tough so make sure you can rest and have help when needed.
Related Self-Care Posts:
5 Ways to Put Yourself First As A Mom By Using Self-Care
#1 Write It Down
"If you fail to plan, you plan to fail." – Benjamin Fraklin
If you don't plan for your self-care, you will often leave it behind.
Be intentional with your self-care plan. If you leave things up to chance, chances are it probably won't happen. Things come up and it will not be a priority. So make sure to write down your self-care routine.
If you need help, check out the Mama Take Care Printable Shop for some ways to help organize your self-care with a habit tracker.
#2 Prime Your Day
I've been reading and listening to Tony Robbins lately, which I highly recommend but he "primes his day." He starts each day with at least three things he is grateful for, exercise, and meditation. These three self-care practices will set your day up for success and make you feel great.
Try writing these three things down and do them right when you wake up tomorrow. If your kids wake you up, grab them some cereal or fruit and do it while they are eating.
gratefulness
exercise
meditation/prayer
If you start your day with self-care, you don't forget to add something in throughout the day, but you can still do that as well.
#3 Pick a Short Self-Care Activity
If you find short activities, you can squeeze in you are more likely to do them. My favorite things to do are as follows
read 10 minutes
jog 10 minutes
shower
paint my nails
meditate
watch a motivational video
paint with my kids
organize something
These are great short ten-minute tasks you can do quickly to give yourself a "pick-me-up" throughout the day. You can even do your jogging or walking while your kids play at the park. I also like to bring a book to the park and play with my kids for a bit, then sit and read on the park bench. It is so relaxing when the kids are getting along!
Can you use your child's nap time to meditate for ten minutes? I find guided meditation works best for me and I have been following Mater Co. on Youtube. You can check him out here: Master Co. on Youtube
I also love quick motivational videos. You can check out my favorite here: Self Love Channel
Organizing also helps me feel relaxed. I find when my house is cluttered, I feel overwhelmed. So finding a place for my items always brings me joy, but do what works for you and makes you feel at your best and put first.
#4 Enjoy the Moment
Remember to enjoy the moment. Stay in the present and stay calm. This may not be easy when you have a screaming toddler demanding a "red" plate instead of the blue one you grabbed, but if you can practice staying calm and at the moment, your "calm" muscle will grow. You will feel yourself being able to stay grounded and stay in the moment longer. You will be able to enjoy the little things and you will actually miss the days of your kids being small. so hold on to those moments.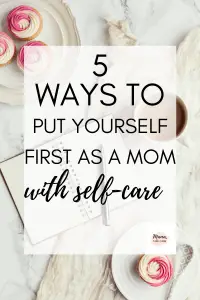 #5 End the day With a Plan
Again, if you don't plan for things to happen in your life, you are not making them a priority. End your day with some self-care after the kids are asleep and then plan for your next day. Write down the self-care ideas you will practice, how you will prime your day and anything else you need to get done that day.
Ways to Put Yourself First As A Mom By Using Self-Care
When mama doesn't come first, the household suffers. Remember the old but true saying "If mama isn't happy, no one is happy." Although a bit corny, it is a true statement we should consider. Give your kids and family a joyful version of you, by putting yourself first and practicing healthy self-care. Obviously, if you have kids, you can't take a spa day and hide out in your bathroom for ten hours, but you can be proactive and schedule self-care into your "To-Do" list so you get some small acts of self-kindness for yourself each day.  You deserve it, mama.
For more self-care tips, sign up for the Mama Take Care Newsletter.
Related Self-Care Posts: