Welcome to our shop! Find all of your Self-Care Needs!
Printable Self-Care Products:
---
Featured:
Are you feeling out of touch and overwhelmed? Then this gorgeous Spa Self-Care Planner is for you!
If you are a busy mom that needs to learn how to take care of herself, this planner will suit your needs.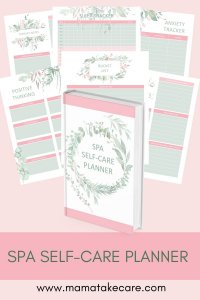 It's time to get in tune with yourself! We offer a complete self-care spa planner for every woman who wants to live a healthier and more balanced life. Track your moods, anxiety, sleep schedule, journal, and more with a 12-month undated calendar. We've also included all the pages listed below:
What's included:
Goals
Life Balance
Letter to your future self
soul stuff
daily journal
weekly journal
routines
meditation tracker
self-care calendar
kindness tracker
undated 12-month calendar
affirmation tracker
positive thinking
"Year in color" tracker
therapy notes
meditation tracker
anxiety tracker
mood tracker
sleep tracker
notes
resources
blank quotes page
---
Purple Paint Positive Thinking Journal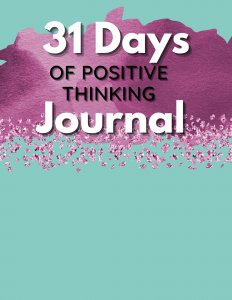 31 Days of positive thinking!
Are you feeling down lately? Do you need a pick me up? Try this amazing positive thinking journal to get you out of your rut.
Let's face it, life can be hard. It is easy to have negative thoughts and focus on the bad.
Yet, did you know you can be a happier person, by simply changing the way you think? And science shows it takes around 21 days to form a habit. So why not give this positive thinking journal a try and commit to a month's worth of positive thinking.
What you will get:
31 days of positive thinking activities and lined paper to write down your thoughts and activities for each day.
Also, a monthly view of the activities and cover page.
Give positive thinking a try with this totally cute journal for only $9.99.
(This is a digital product. Once payment is received, you will get a digital download you can print at home and use over and over.)

---
What you will get:
30 Page PDF printable for personal use (no physical product will be delivered)
This Planner Belongs to page
3-month gratitude goals
vision board
"I am Grateful for" sheet
The gratitude of self sheet
Gratitude jar
Monthly un-dated calendar
"I am Grateful for" drawing sheet
Gratitude activities sheet
Monthly gratitude preview sheet
Daily gratitude sheet
morning gratitude sheet
evening gratitude sheet
Weekly Preview
Weekly Reflections
Notes
Random Moments of gratitude
If you have the blues, this gratitude planner is for you. Learn how to be happier by practicing gratitude daily.

---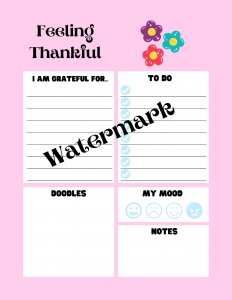 Help your kids stay grateful this season too! They can follow along with mama, with their own gratitude journal!
Put these printables in a binder and help your kid stay grateful all year long.
This is a 3-page PDF that can be printed multiple times so you can create a 30-day journal or all year if you choose! This gratitude journal includes a starter "This Gratitude Journal Belongs to" page, One Planner page (see above) that can be printed multiple times to create a complete gratitude journal for kids, and one "My Thoughts" lined page which can be printed multiple times as well.
Enjoy this pink printable gratitude planner for kids.
Help your kids have an attitude of gratitude today and always!
This is a digital product. No physical product will be delivered. Once payment is received, you will be emailed your printable pdf file.

---
What you will get:
5 printable wall art floral pattern background prayers:
The Lord's Prayer
Hail Mary
The Serenity Prayer
The Offering and Prayer of St. Ignatius
Prayer of St. Francis
This is a digital product. Your product will be delivered via email once payment is received and you can print at home.
Sample:
rs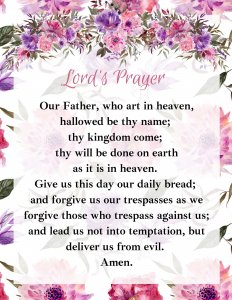 ---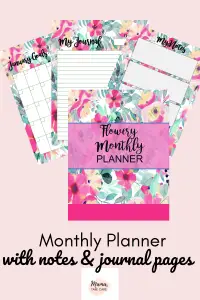 20 Page Undated Flower Planner, Blank Lined Journal Pages, Notes | Created by Momma Take Care
Do you have too much to do? Do you have goals that are not being met?
If your To-Do list is a mile long and you can't figure out why things don't get done, this planner is for you.
This undated planner will help you get your life in order and reach your monthly goals.
It has an adorable flowery background and will help brighten your mood each time you take it out to write down your monthly goals and tasks.
This planner also includes reprintable blank-lined journal pages so you can keep a journal each month. Plus, since it is undated, you can reprint it year after year.
What's included:
20 Page Undated Flowery Planner/Journal Pages
Letter-size PDF
Features:
Printable undated 12-month calendar
Blank-lined, reprintable journal pages
Reprintable notes page
This is an instant digit download product. Nothing will be shipped.
Price: $5.99

Use the pretty self-care printable checklist to keep track of your self-care needs. Often, mamas forget to take care of themselves. Use this weekly self-care checklist to start practicing more self-love and nurturing. (1-page PDF)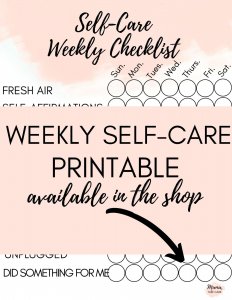 Price: $1.99

---
This pretty printable touts 30 positive affirmations to say each day. Make one your mantra for each day of the month. Hang them on your wall as a reminder of positive thoughts and energy throughout the day. Remember, you are your thoughts, so uses these beautiful sheets as a reminder to use self-love, trust yourself, and stay positively happy. (3 page PDF)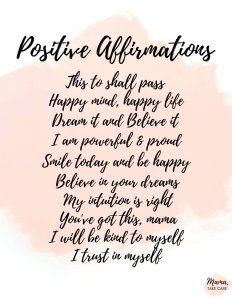 Price: $3.99

---
Are you ready for better habits? Use this 60-day habit tracker to help you reach your goals. Studies show it takes around 66 days to form a habit. Use this habit tracker for all of your positive habit needs. This is a two-page PDF. The second page offers ideas of habits you can start like writing or exercising. Enjoy!
Change your habits, change your life!!
Price: $2.99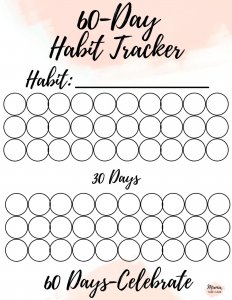 ---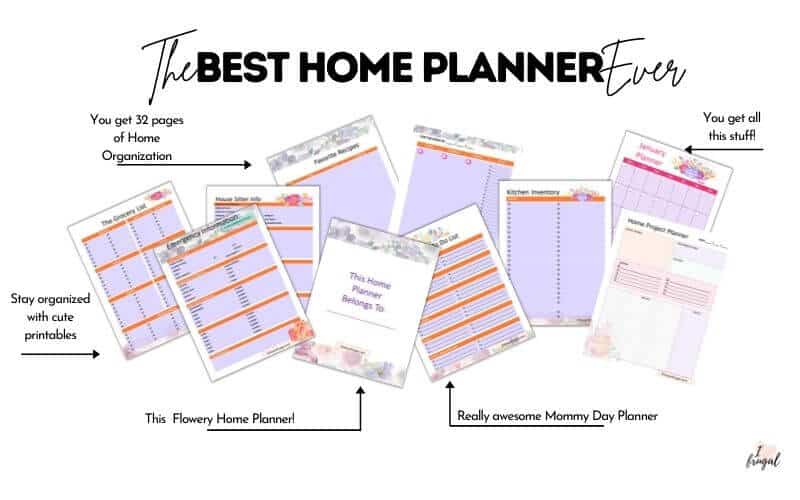 Are you tired of living your life on the fly? Do you always feel like the mom that "doesn't have her stuff together?"
Well, fear no more, mama!
The Flowery Home Organization Planner is Here!
If you often feel like your life is out of control, it is time to start taking action and planning with this super cute, Home Organization Planner.
Cover page
Emergency Information
Favorite Recipes
Grocery List
Home Project Planner
House Sitter Info
Kitchen Inventory
Master Home "To Do" List
Outdoor Project Planner
Family Recipes
Recipes to Try
Shopping List
Cleaning Schedule
What's for Dinner Meal Planner
Daily Mom Planner
Weekly Mom Planner
Undated Calendar
Notes
To-Do List
Vision Board
Get your life back together and be the most organized mom on the PTA! You've got this girl!
This planner will change the way you run your home!
No more forgotten soccer snacks or picture day money. Keep handy information in a binder so it is easy for you to find and use!
This is a digital download, Upon purchase, you will receive an email with your download and any future updates.
32 pages of home planner pdf printable including emergency numbers, home planners, mommy day planner, weekly mommy planner, recipes, and more!

---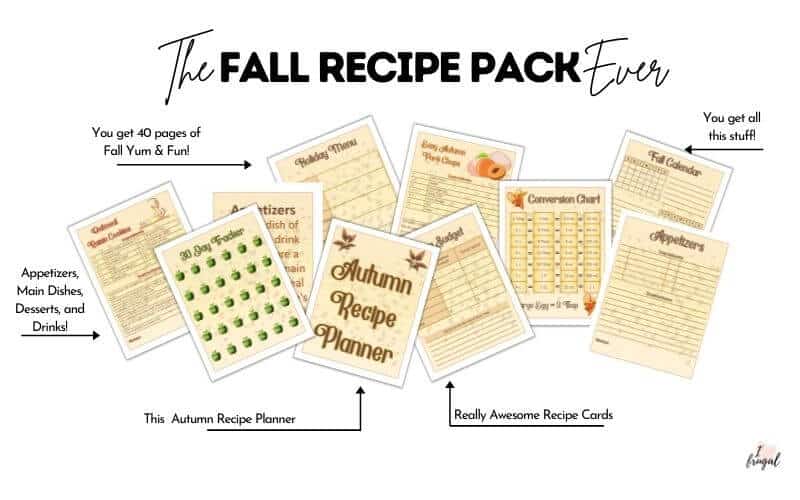 Are you ready for Fall? My favorite part of Autumn has to be the food!  Yet, it is not always easy to prepare meals and have your ingredients on hand with back-to-school underway, fall sports, and all your other fall activities.
That's why I created the Autumn Recipe Pack.
This 40-page pack includes all you will need to stay organized this fall.
What you will get:
Cover
Belongs to Page
Conversion Chart
Appetizer Divider Page
Appetizer Blank Recipe page
Complet Recipe: Cranberry Brie Bites
Complete Recipe Autumn Kielbasa
Side Dish Divider
Side Dish Blank Recipe
Complete Recipe: Mashed Butternut Squash
Complete Recipe: Honey Sweet Potatoes
Main Dish Divider Page
Mian Dish Blank Page
Complete Recipe: Pork Rice Casserole
Complete Recipe: Easy Autumn Pork Chops
Beverage Divider Page
Blank Beverage Recipe Page
Complete Recipe: Gingerbread Mocha
Complete Recipe: Easy Hot Apple Cider
Dessert Divider Page
Dessert Blank Recipe Page
Complete Recipe: Oatmeal Raisin Cookies
Complete Recipe: Chocolate Chip Pumpkin Cookies
Weekly Meal Planner (Fall Theme)
Daily Meal Tracker
Grocery List
Bonus
Plus: Thanksgiving Section with a budget planner, dinner menu planner, seating chart, and fall recipe favorites.
Also included: Two fall journal pages, a fall calendar page, and three cute fall tracker pages that can be used to track your savings, exercise, or self-care routines.
This Fall Pack will help keep the back-to-school season simple and fun. No more stress for mom!
You will be prepared for Thanksgiving and also try some new yummy fall recipes.

---
Are you ready to start journaling this spring? This printable offers 30 Spring journal prompts to get your mind thinking Spring while also learning to use a journal to help reduce stress, anxiety, and negative emotions. You can use the journal prompts and journal pages included. The prompts are three pages long and 15 journal pages included to start journaling right away.
Price: $4.99