Self-Care is the ultimate way to take care of yourself. Have you noticed your wife, mom, or mom-friend looking or feeling overwhelmed or exhausted? Trust me, it is easy to feel this way with all the hustle and bustle of family life.
And what better way to help during tough times, than to provide yourself or your friends a little self-care?
Did you know you can make your own DIY self-care kit for moms?
This post will explain what a self-care kit is and offers ideas of what you can put in your own self-care kit.
How to Create a Self-Care Kit
A self-care kit is fairly easy to create. If you know what helps you relax and indulges you, add some of these ideas to a basket or use them for a friend. Yet, if you are struggling to find ideas, this post will offer you some wonderful ideas to add to your self-care kit.
Keep in mind, all you really need is a basket or bin to keep your self-are items in and make it super easy on yourself to pull ou when needed.
There is really not one-size-fits-all when it comes to a self-care kit for moms. Make sure anything you add does not create more work for you and then add things you love and pamper yourself.
What is a self-care kit, and why is it important?
A self-care kit is a kit you put together for yourself or as a gift, to help you practice self-care.
It is a fabulous kit to have on hand because as moms most of us forget about self-care. Yet, if our self-care items are easily available, we will be more likely to practice self-care.
Also, if you have a stressed friend or an upcoming birthday for a mom friend, a self-care kit will make her feel pampered or cared for.
In this post, you'll learn more about self-care kits and how to create your own.
This post contains affiliate links, which means if you click a link and make a purchase I receive a small commission, which keeps this blog going. I am a member of Amazon Affiliate. You can read more about my disclaimer here.
What Should Be In a Self-Care Kit for Moms?
There really is no one-size-fits-all when creating a self-care kit. Don't add anything that will take up too much time to put together or cause you stress.
Your self-care kit should help you find time to do something for yourself. So you get to choose what works for you.
Personalize your kit to suit your own needs.
Did you know you can order self-care kits? Here are a few to check out:
DIY Self-Care Kit
You can, of course, buy a self-care kit at stores such as Sephora, Ulta, and Target, but if you want a more personalized kit, you can create a DIY kit yourself and make it your own.
Pin me for later: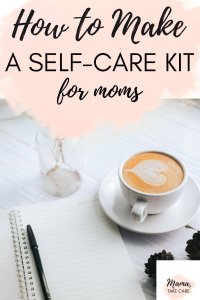 Keep reading to find the best items to include in your self-care kit:
1. Journal
Journaling is a wonderful, cathartic way to practice self-care. Not only does journaling help you process emotions, but it also helps you unwind and stay calm.
Often, it is what I really need during my "me time."
As moms, we often pay so much attention to others and help our kids work through their problems, but we forget about our own emotions and they get buried deep down. Moreover, it is essential to pay attention to our needs and use our journals as a release so our kids can have joyful mothers.
Don't get hung up on the "how tos" of journaling. You can grab an empty notebook or buy a pretty journal to get started. It is up to you. You can use journal prompts or just write freeflow. It all depends on the person.
If you are looking for a way to get started journaling, you can check out the self-care spa planner in the shop. It offers journal pages and prompts to help you remember self-care and take care of yourself.
2. Spa Supplies
Of course, we think "spa" when we hear the term self-care! If only we could go to a relaxing spa each morning and get the full massage workup!
However, this isn't possible as a busy mom, and creating a spa at home is WAY more doable and affordable!
Here are a few examples of items to include in your self-care "spa" kit:
●Nail polish
●Bath Bombs (I like the fizzy ones)
●Body scrub
●Lip scrub
●Scented lotion
●Shower steamers (peppermint is my favorite!)
●Body butter
●Makeup ( I can't live without lipstick!!)
Don't forget to include dark chocolate or mint in your spa self-care kit!
If you are lacking in the list above, try to pick a few to get started.
2. Book or Movie
Do you love to read or do you want to just "veg" out?
You can include a favorite book or a movie to help you relax.
Reading is very therapeutic, but we often can't find time for it. Try setting a timer or a page goal each day. For example, I will read for 20 minutes each day or I will read 20 pages each day.
I enjoy the kindle app on my phone since it is easy and I can read while I wait in the school pick-up line.
Also, try finding a movie you find entertaining or something that has been recommended by others (I don't like wasting my time on boring movies!)
Think movie you have wanted to see, but haven't found the time. I usually check my streaming services before I rent a movie and most of the time I find them! (Like Father Stu on Netflix!)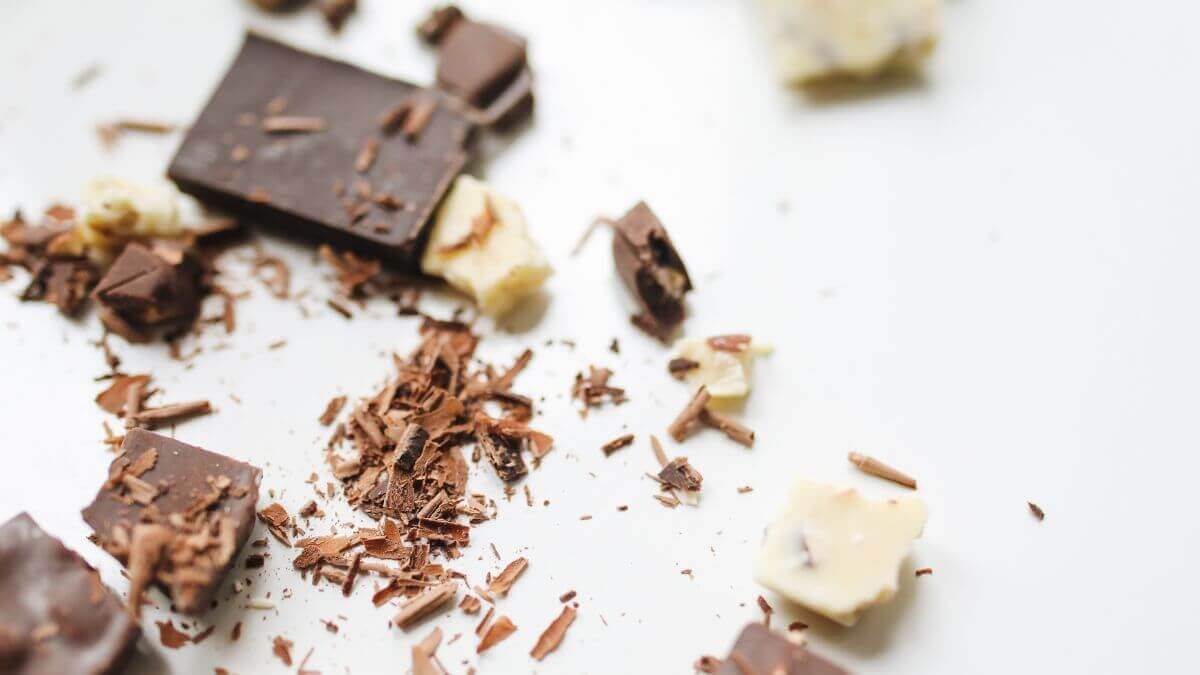 4. Chocolate
This is one of my ultimate favorites. In fact, my grandma is turning 90 next month and one thing she does every day is to eat a mini dark chocolate – just a tip for longevity! She is also the "old" school go get your hair done each week type of lady. What a great way to fit in self-care!
Anyway, I love chocolate and probably got it from her.
Make sure you don't devour the chocolate because you forgot to eat lunch. Try to savor each and every bite.
If you don't like chocolate (you're not my friend – lol), try to find something you do like or a certain drink to treat yourself.
5. Gift Cards or Money
Try to keep a few dollars handy or unused gift cards for days you need to treat yourself. Like my son, who does not open his "Hot Wheels" packs so he has something to look forward to when he is down, don't just use up your gift cards to places like Starbucks or Panera.
Save them for days when you need a pick-me-up and have time to treat yourself.
Here are a few suggestions on gift cards or easy places to go for a self-care day:
Starbucks gift card
Bath and Body Works (Love their candles!)
MoviesAmazone (retail therapy!)
Boutique or small business you love
Bath and Body Works gift card
Chocolate or candy store gift card
Go to the movie theater
Take a walk in the park after drinking coffee
Amazon gift card (sometimes online shopping is therapy too!)
I've been holding on to this H&M gift card my husband got me and I need to plan a day soon to treat myself! -Wow! That was before Covid.
6. Affirmation Cards
If you are not used to affirmations, this is a great way to start feeling more positive and have a better outlook when you are stressed and down.
By using your affirmation cards, you can build self-esteem and know you matter.
For example, one card might say, "I am worthy." If this is your card for the day, repeat it often. Another example would be, "I am enough. I deserve time just for me."
These are great reminders to keep your self-care routine going and know you deserve self-care too.
40 Positive Wednesday Blessing Quotes
*** I will be adding affirmation cards to my shop soon so be on the lookout!!***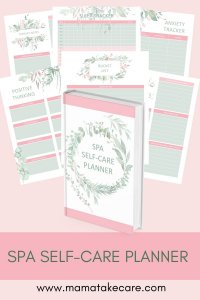 Lastly, to make sure you are getting your self-care in, try investing in a self-care spa planner and add this to your self-care kit.  This is a great way to keep track of moods, sleep, and anxiety. goals, affirmation, meditation and so much more. In fact, if you buy this beautiful pink/green spa planner for self-care, you can use code KIT and get 50% off just for reading to the end of this post! YOu can check it out in the shop here!!!
Goals
Life Balance
Letter to your future self
soul stuff
daily journal
weekly journal
routines
meditation tracker
self-care calendar
kindness tracker
undated 12-month calendar
affirmation tracker
positive thinking
"Year in color" tracker
therapy notes
meditation tracker
anxiety tracker
mood tracker
sleep tracker
notes
resources
blank quotes page
(This is a digital product and must be printed at home. If you do not have a colored printer, it will print in black and white.)
How to Make a Self-Care Kit
Self-care kits are essential to keeping up with an amazing self-care routine.
These also make thoughtful gift ideas for friends, family, moms, teachers, and grandmothers and can be personalized for any occasion. Think heart-themed for Valentine's or Christmas-themed and so on…
You can also use these for a postpartum gift to help encourage a new mommy! (But don't forget to make one for yourself!)
Related Self-care Posts:
Self-Care Kits for Moms