Do you have a journal? Journaling can be so cathartic and this post will explain why you should have a journal to add to your self-care routine.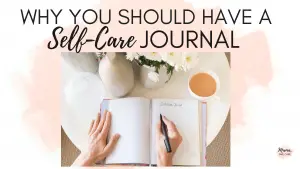 I have made use of my journal for many years of my life. When I was younger, I called it a diary, but journaling can be so much more than just a retelling of what happened in your day-to-day adventures. In fact, journaling is a great way to release your feelings, good or bad, and reflect upon what life has offered you. You can also use a journal to set goals and process feelings.
Many have a journal but forget to uses it. It is best to carve out some time during the day for journaling so you don't forget.
As you read you will see why journaling can help with self-care, anxiety, depression, overwhelm, and anger as well as keep up mindful and provide a release during stressful times.
Should I Only Journal When Stressed?
In short, no. You can journal every day to avoid feelings of stress. If you can process feelings and write them down through journaling, you can beat stress in its tracks. Studies show journaling will help you feel less stressed.
Why You Should Have a Journal
One of the top recommendations for practicing self-care on a routine basis is to start a journal. This is so helpful, easy to do, and won't cost you a lot of money. It is convenient and can be brought with you everywhere, so even in the middle of a busy workday, you can grab the journal and write in it for a few minutes. This alone is a great purpose of keeping a self-care journal
Why Journal Writing is Important
According to The University of Rochester Mental Health Encyclopedia writing in a journal help you stay positive, improve mood, and track day-to-day symptoms of fear, anxiety, or depression.
It is important to have a release of thought. Journaling is good for mental health and can help ease anxiety and depression.  Therefore, there is a significant importance to keeping a journal.
Reason to Start Journaling
Here is a list of the main reasons to keep a journal:
Ease stress
Distraction from
Track mood
positive self-talk
release of negative feelings
What to Write in a Journal
Some people do not keep a journal, simply because they cannot think of things to write. Yet, if you are having difficulty, you can find journal prompts to help you begin your journaling journey. You can write about thoughts and feelings. You can write about your stressors or joys. You can simply write about your day and keep a diary-style journal. The best part is, you get to choose what is best for you.
Do you need some journal prompts? Check out my list of Spring Journal Prompts in the shop!
Is it Good To Keep a Daily Journal?
You can choose the frequency of your journaling, but it is best to use your journal daily. In this way, you can form a journaling habit and will continue to keep up with it as opposed to forgetting often. You can use my habit tracker to help you make journaling a habit.
Journaling Can Help You Express Yourself in a Healthy Way
First, when you are stress out, it is difficult to stay focused.  Often times when we feel stress, we express ourselves in a negative way to friends and family. Unfortunately, we often regret this later.   In order to release negative feelings, we can use a journal to release out negative thoughts in a private way. When you feel the need to vent, you can use your journal as a tool to decompress.
It Helps you to Find the Cause of Your Issues
Have you considered what is causing your stress or anxiety? When trying to heal and feel whole, it is best to find the reason for emotional stress.
Do you know why you may be having anxiety or panic? If you are unsure, a journal can be an extremely helpful tool.
You can track your mood and how you are feeling from day today. When you feel high emotions such as stress, anxiety, or depression be sure to take note and jot down what exactly was happening at that moment. You can look back and see what your triggers are. Where you around a certain person? Did you drink a lot of caffeine or were you dieting?
Your journal will hold the answers to making change and feeling less negative emotions.
You can also look back at your positive moments when you were feeling joy and bills. You can add more of these situations to your life.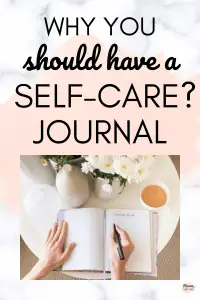 Journaling Offers a Great Distraction
Do you need a distraction from your worries? If you have a mind that is constantly thinking about stressors and negative outcomes, life can feel overwhelming. If you want a distraction from your own thoughts, a journal is a great option. If you are writing, your mind will have a hard time wandering. You can also release some of your negative feelings or thoughts and be done with them.
Journals Help You Take Action
Perhaps you are stressed because you're not sure about the direction of your life. If you are unsure about where life is headed for you, try creating a list of things you love. Use your journal to create a plan and start jotting things down about your future happiness. What path will you take next?
Journaling for Self-Care Final Thoughts…
As you can see, keeping a journal can help improve mental health. It is an essential part of any self-care routine because you can keep track of mental health symptoms, release negative feelings, and have a place to keep your thoughts safe. Your journal can be your go-to when feeling down or anxious and can help uplift you.
Don't forget to check out the Printable Shop for Journal Ideas