Exercise and Diet to Help With Self-Care
It is essential to stay healthy if you want to practice self-care. Let's face it, if you don't have your health, you don't really have anything. Not to mention, any health concerns that affect your daily life, are going to make you feel down and less energized.
Therefore, in order to maintain your health and your self-care needs, it is best to practice a healthy diet and exercise regime.
(Disclaimer: I am not a doctor. Please consult a doctor before changing any of your diet or exercise patterns.)
Dietary Changes to Make For Self Care
It is important to maintain a healthy diet and a healthy weight for your well-being.
Are you a junk food junky? I have to admit, I love Cheetos so I know the feeling, It is SO easy to grab the latest processed food when you are tired and don't feel like making anything or cutting up fruit and veggies.
I also am guilty of running through the drive-through to grab some chicken nuggets after a play date because I was exhausted after chasing a toddler around and didn't have time to make lunch.
I realized I needed a self-care diet to help me stay healthy and maintain the energy I needed to keep up with my kids.
Nonetheless, changing your diet will not only help with weight loss, but it will help improve your mental well-being as well.
Filling up on carbs and high-sugar foods can leave you feeling irritable with more stress and anxiety. It can also be the cause of insomnia if you are eating these unhealthy foods at night.
If you are working towards better self-care, it is best to leave these foods as a thing of the past, and opt for healthier options such as fruits and veggies.
Related: How to Increase Your Energy Levels
Stay Hydrated
Water is such an essential part of being healthy.
According to Medical News Today, an adult human's body is 60% water. Yet, many people are dehydrated and don't even realize it.
Often thirst shows up as cravings, so instead of drinking more, we eat more.
When I'm feeling crabby, grabbing a cup of water usually does the trick to bring me back to my peaceful state.
If you want to take care of yourself, aim for around eight, 8 oz. glasses per day.
Also, if you are having a lot of food cravings, try drinking a glass of water before you indulge.
You may just be thirsty and can use water to curb your cravings.
Eat Healthily
If you are a frequent snacker, try finding easy, convenient healthy snacks to fill up on before you reach for unhealthy options.
Often, if we make a choice at the store not to buy junk food, we are WAY less likely to eat it. So next shopping trip, leave it on the shelf.
If you've watched weight-loss shows, trainers or doctors ask the participants to throw away all of their unhealthy foods. Although it is difficult to get rid of unhealthy choices, it starts you off on a clean slate so you are ready to make a healthy lifestyle change.
It helps to pay attention to food labels. I used to use an app to track my calories called My Plate and I didn't even realize how much sugar I was eating and I "thought" I was eating healthy.
If you are looking to track sugar and salt intake, these types of apps can help and often have the food listed so you don't have to add everything up yourself.
If you are like me, you will still have cravings, especially during certain times of the month. I suggest keeping some dark chocolate with a high amount of cocoa for any weak moments. And hey, we all deserve a treat once in a while.
Related Self-Care Posts:
Eat Superfoods to Boost Health and Immunity
Have you heard of superfoods? Superfoods are essential to a self-care diet. It is true, you can get self-care through food.
Superfoods are healthy foods that pack in nutrients that are good for your body and brain. Filling up on superfoods is a great form of self-care. Nourishing your body is just as important as exercise and mindfulness.
Often, I like to think about eating healthier, rather than being on a diet.
Making lifestyle changes is always better than restricting yourself. (disclaimer – I am not a doctor and before changing your diet or eating habits you should first consult your doctor.)
Superfoods include nuts, grains, lean protein, healthy fats, and dark chocolate.
In Jimm Qwicks's book "Limitless" he often refers to many of these foods as "brain foods" and discusses how they can help you be more productive and learn better. Here is a list of superfoods to keep on your shopping list:
Dark chocolate
Brocolli
Avacado
Walnuts, almonds, or other nuts
Dark leafy greens like kale and spinach
berries
Celery Juice
Lemon Water
Chia seeds
Pomegranate seeds
Quinoa
Wild salmon or tuna
What is your favorite superfood? I like to rotate the above so I don't get sick of any of them, but I especially love berries, walnuts, and I like to replace rice with quinoa. I have also been trying celery juice in the morning and it seems to help me with inflammation.
Related: 10 Wellness Tips When Working From Home
Find Healthy Comfort Food
Learn to replace your favorites with healthier alternatives that still taste good. My husband likes to buy the beef patties from Costco that taste SO good. Yet, after reading the label, I discovered they had 35 grams of fat in just one patty.
I decided to opt for turkey burgers, which are great with low-fat cheese as a cheeseburger. In fact, you can use ground turkey to make chili, tacos, and meatloaf – some of my favorite comfort foods.
Pin me for later: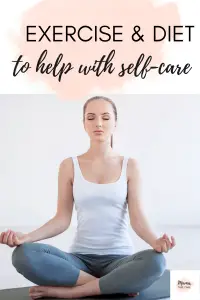 Self-Care Exercise to Help with Stress
Why does physical exercise count as self-care?
Because physical exercise is a stress reliever and helps increase endorphins to boost your mood.
When looking at self-care, we are looking at taking care of the person as a whole.
One integral part of staying healthy is exercise. So find a physical activity you enjoy and do it every day.
Make it a habit and look forward to it.
Research shows exercises releases endorphins that make you happier.
Your serotonin levels rise, which is the "happy" chemical in the brain. A simple walk in nature can have lasting effects.
Keep reading to find more ideas for exercise as self-care.
Try Walking as Exercise for Self-Care
Walking is easy on your body, but also a great way to stay in shape.
And it seems simple right? But many have a hard time getting out, especially if you have kids.
I find if I ask my kids to go with me or make it fun by pulling them in the wagon, I get a great workout and they also have fun.
When they were younger, I would push them in the stroller and burn even more calories.
At times, they still want me to pull them in the wagon, which is pulling over 100 pounds, so I need to amp up my workouts to keep up with these two! haha
Yet, walking is a great way to give yourself some self-care and self-love. It's so easy.
You can walk on your lunch break at work, or find a walking buddy in your neighborhood to get some socialization too.
Take your dog for a walk.
Try walking on hiking trails. YOu can take your kids and all enjoy some nature.
Take a Yoga Class
Have you tried yoga? Check out some free YouTube videos and see if you like them.
I find yoga to be calming and relaxing. I used to have major back pain and my back got better after learning and practicing yoga.
Yoga helps you open up and stretch your body while breathing. It is very peaceful.
It helps your body become stronger and more flexible.
You can try a yoga class at a gym or at home with Youtube or workout DVD/blue-rays.
Fall In Love With Dancing
Before having kids, dancing was one of my very favorite things to do in the world. Yet, after having kids my husband and I rarely go dancing.
Yet, if you get creative, you can still do the things you love. Why not have a dance party with your kids.
Try scheduling a dance class with your spouse or yourself, depending on what you are looking for. There are a variety of options including ballroom, jazz, and/or hip hop.
Dancing is a great way to burn calories and release endorphins.
Try Different Workouts Until You Find One That Sticks
There are so many different ways to work out than your traditional walking or jogging. So let's get creative and try something new.
Try rock climbing, trampoline centers, kickboxing, barre classes, piyo, or adventure courses. Another sport that is becoming very popular is pickleball.
You will still get the same amount of exercise but will feel brave and accomplished for trying something new.
Related:  5 Steps to Starting Your Week Off Right
Exercise and Diet Changes for Self-Care Final Thoughts
Exercise is so important and eating healthy is the backbone of a good mind and body. Use the tips above to help you on your wellness journey. Taking care of your diet and exercise is one – if not the BEST – form of self-care you can do.
Related: How to Develop a Growth Mindset