Some people enjoy being alone, yet others will do anything to be in a group. Yet, being alone is beneficial for you and can help you find solitude and peace in a world full of chaos.  Therefore, learning to date yourself has many benefits.
Spending time alone will help you find yourself including your voice. You can also be creative and feel comfortable in your own shoes.
Whether you are single or have a family, embracing your "me time" is essential for feeling whole and loved. Here are some amazing tips to help you learn to appreciate your "me time" and start to love being alone – and trust me, you won't feel lonely.
How To Spend Time Alone (And Date Yourself)
Finding ways to date yourself, is fun and will help you get to know yourself better. Moreover, you will learn your likes and dislikes and may even find a new passion in life.
Give these tips a try and have fun being alone.
#1 Start a Hobby for Fun
One way to look forward to your time alone is to start a hobby. Find something you truly enjoy and do more of it. For me, it is writing, but for you try anything that will help you find solace in solitude. Some ideas are drawing, coloring, knitting, running, yoga, or anything other hobbies you enjoy. The sky is the limit.
Try different hobbies until you find one that is truly inspiring.
Find hobbies that keep your brain active such as learning a new language. Creative hobbies also benefit you like writing or painting. Not to mention physical hobbies that will benefit your overall health such as walking, yoga, or dancing.
The key is to find something fun that you enjoy and you will actually "want" to do.
#2 Journaling
One of the most beneficial forms of self-care is journaling. It is a great way to spend time alone and get your thoughts down on paper.
Try to make a habit of journaling daily and write about your feelings and emotions. You can use your journal as a way to process emotions and learn to be content and happy.
Need help journaling?
Try my guided journal freebie here:
#3 Get Inspired
Often when we are with others, we spend time focusing on the th other people and not ourselves. So when you're alone, use this time to get inspired.
You can try creating a vision board using ideas from Pinterest or magazines.
Use these ideas to find things you would enjoy doing alone such as crafts or recipes.
Make sure to save or jot down your ideas and keep a running list of new things you want to try.
#4 Get Creative
Creativity is a wonderful form of self-care that you can practice while you are alone.
What is your favorite creative outlet? do you enjoy painting, ceramics, cake decorating, playing an instrument, or DIYing?
Pick your passion and make a plan to get started.
#5 Pamper Yourself
Find time to pamper yourself when you're alone. You can give yourself permission to be pampered and taken care of, whether it is going to a spa or creating a spa at home for a more budget-friendly option.
Try setting out candles and finding some aromatherapy bubble baths or bath bombs. You can enjoy your bath with a good book and a face mask.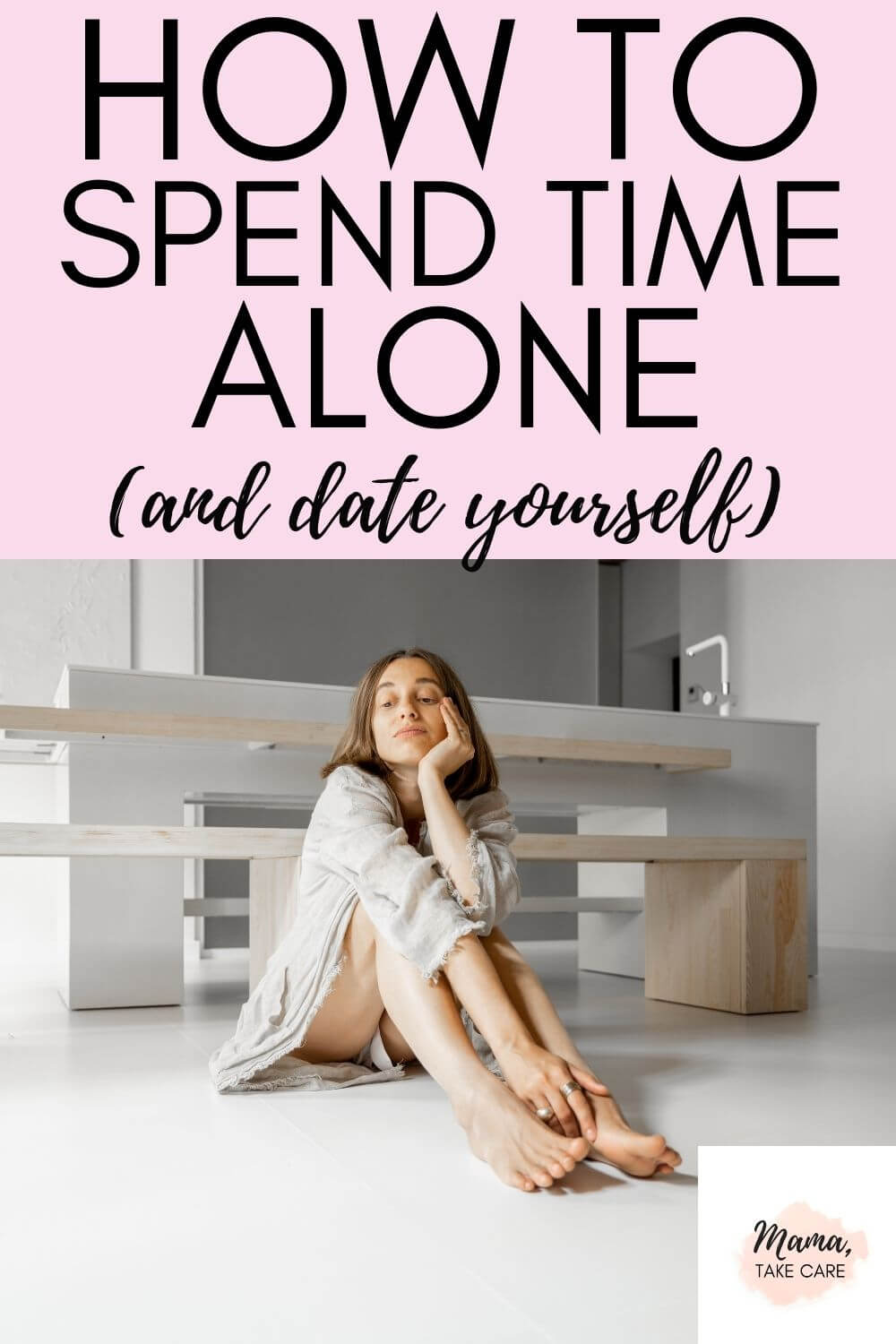 #6 Bake
If you love to bake, but often are too busy with family affairs, you can use this alone time to whip something up.
Baking is a great way to lift your mood. Plus you get to reap the rewards when you are done.
Find some new recipes and heat up the oven.
#7 Find Your Inner Child
Using your inner child to help you find who you really are, is a great way to find peace and solitude when you're alone.
Think about activities you loved as a kid and remember you are never too old for doing things you love.
#8 Become a Pro
Is there a subject you are interested in that has been on the back of your mind? Now that you are alone, you have some time to really become an expert.
What do you love? Dinosaurs, mysteries, studying the human brain? Whatever comes to mind, read and learn about it. Take a guided online class.
Research your tops and become an expert.
#9 Binge Watch Your Favorite Show
After all your studying, binge-watch your favorite show. You can do a "Netflix and chill" night with some popcorn and a yummy drink. Find a show you enjoy and watch as many episodes as you like while cozying up in a blanket.
#10 Start a Side Hustle
If you've got some extra time, why not start a side hustle? You can make some extra money in your spare time and find something you love to do such as dog walking or blogging.
If you are creatively opening up an Etsy shop, selling printables, or anything you can think of can be fun and earn you money. I actually do all three!
I run another personal finance blog and you can check out some ideas for mom side hustle here: 21 Mom jobs!
How to Spend Time Alone (And Date Yourself) Final Thoughts…
I hope this post has offered you some amazing things to do while you are alone and love it. Learn how to date yourself and be kind to yourself daily. Enjoy your own company. Being alone doesn't mean you have to be lonely. After you start some of the above tips, you may want even more alone time.
What are some other activities you like doing when you're alone? Let me know all about them in the comment section below!
Related Mom Life Posts: