5 Tips For Managing Stress As A Stay-At-Home Mom
In today's modern age, many women are deciding to stay at home and raise their children. Therefore, it is not uncommon for us mamas to feel stressed from time to time. Yet, managing stress as a stay-at-home mom is key to thriving and being the best mom you can be.
Although I left my 13-year career as a teacher to be a stay-at-home mom, that doesn't mean I wasn't stressed out at times too. Having a baby is stressful whether you are working or not. And if you are at home, problems will arise.
The baby was up all night
The baby has a fever
The baby won't eat
There are 10 loads of laundry to be done
The house is a disaster
Your kids are fighting with each other
If you are a new mom, learning to handle the above, plus a plethora of more situations is stressful. Not to mention the day-to-day activities and making sure your children meet milestones, are growing, and get proper nutrition.
It can be a lot to juggle, especially if you are a first-time mom. It is hard to adjust to taking care of the needs of another person, usually with no sleep.
Therefore, it is imperative to find ways to cope with stress as a stay-at-home mom and you can use the five tips listed below to help you on your motherhood journey.
Five Tips to Help You Manage Stress as a Stay-at-Home Mom
1) Schedule a consistent routine for your household
Some love to live spontaneously, but by sticking to a set schedule, you'll be less likely to skip your workouts, hit the snooze button on your alarm clock, or make excuses for skipping the gym. When you know what's coming next, it becomes easier to push through and get things done.
Plus when you have kids, it is easier to get things done during naptimes and downtime.
If you stick to a routine, it will help your baby eat and sleep better and give you a well-deserved break during nap time. You can also add in playtimes and outside times to keep it fun.
Although I am recommending a routine, I also advise not to be too rigid with it. Things will come up and your child will wake you up at night. You will have tired days and sick days. And it is okay to go off the routine for a bit to accommodate.
Don't stress yourself out over the routine. It is just a good thing to try to keep up with.
2) Take advantage of all the free resources available in your community
Look around for resources that can help you. We often turned to our local library and moms club.
These two things helped immensely with stress. Our mom's club helped us find friendships and playdates with other people in similar situations.
Our local library provided reading progress, free books, activities, and storytimes that kept up busy for free. Also, many libraries offer classes to help with parenting and such.
Also, many doctor's offices or hospitals offer lactation consultants to help you with the stresses of breastfeeding.
Check your city for babysitting co-ops if you need a break. You can find free or affordable babysitting. Our mom's club also had a babysitting co-op.
3) Be proactive about getting help from other family members
When I was a stay-at-home mom, I found that while my kids were great company and it helped me grow as a person, it also ended up taking away from my work (I started blogging when my kids were little).
They needed attention and care, and this often left me feeling drained.
I used to be afraid to ask others for help. Often, I felt I had to do everything myself. However, I decided to get help from other family members so that I could get more done. Now instead of having to take care of the kids by myself, I have help. It is also a good thing for your kids to have relationships with other trusted family members and adults.
4) Know when it's time to call a babysitter or a date night out with your spouse
Keeping that time with your spouse is also important. If you are a stay-at-home mom, chances are you are literally talking to kids all day. Adult interaction will help you unwind and stop using baby talk! LOL
This is also a great way to reconnect with your spouse and do something kid-free and fun.
Related Self-Care Posts:
5) Remember to take care of yourself so you can better take care of others
It's easy to get caught up in the day-to-day demands of life and forget about our own needs. It's important to take time out for ourselves, even if it means a 10-minute break at your desk. This will help you power through the day and be able to provide care for others when they need it most.
Try some of the following tips to help with stress management so you are providing self-care for yourself:
taking a warm bubble bath
reading a book
journaling
exercise
hot tea
lunch with a friend
Pin me for later: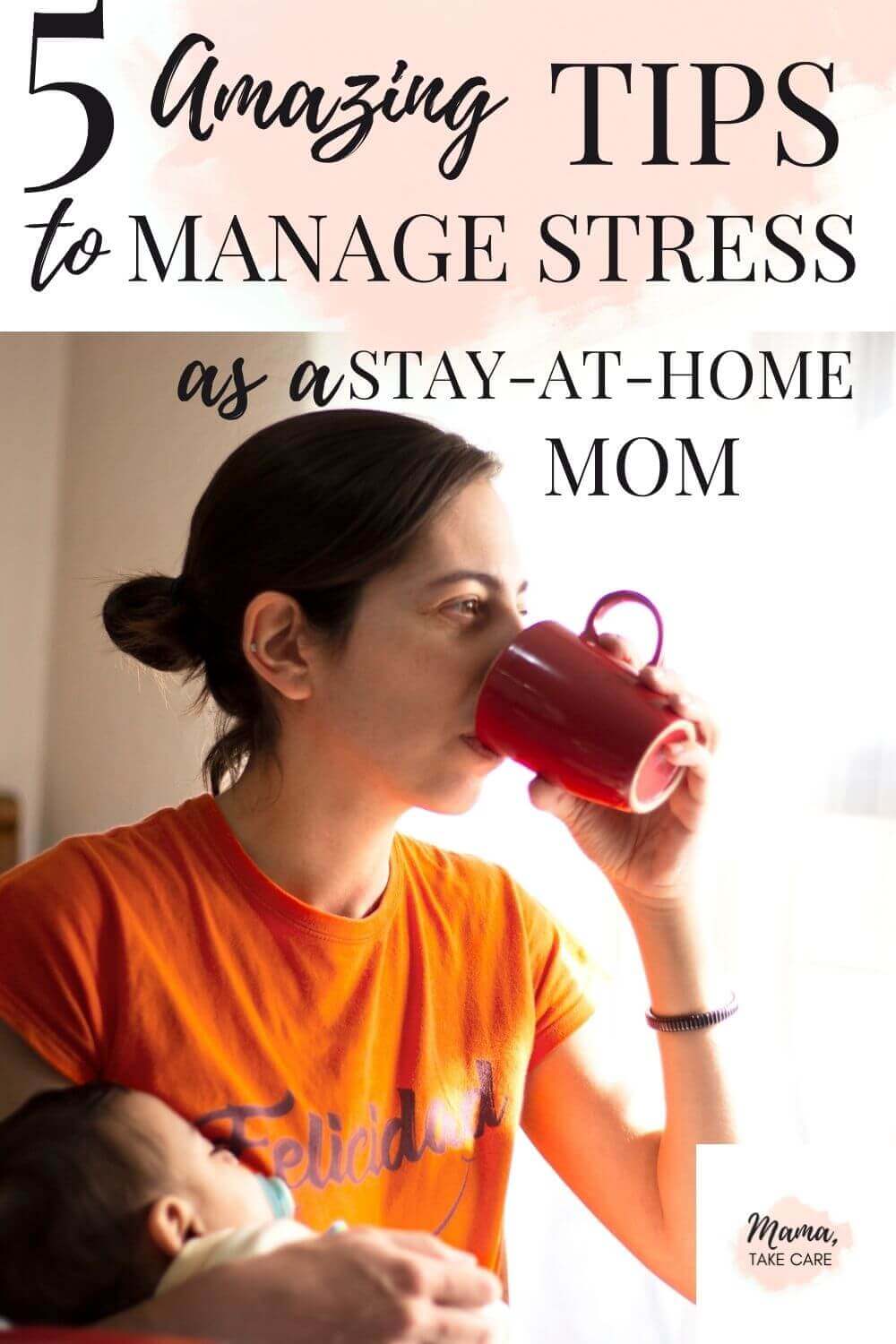 How to Manage Stress As a Stay-At-Home Mom Final Thoughts…
Being a stay-at-home mom can be isolating and stressful at times. It is best to find ways to take care of yourself and get out of the house to help you break out of a stressful day. Try sticking to a schedule so your baby will nap for you and give you a well-deserved break. Make sure to take care of yourself, mama! You are worth it!