Is Makeup Self-Care? Of course, we want to feel good about ourselves and makeup can help. If you are a "make-up" person, you probably already know how makeup can brighten up your day. Yet, often we don't think of makeup as self-care. If you are wondering, "Is makeup self-care?" this post will offer some inside and recommend my favorites that won't break the bank.
This post contains affiliate links, which means if you click a link and make a purchase I receive a small commission, which keeps this blog going. I am a member of Amazon Affiliate. You can read more about my disclaimer here.
Is Makeup Considered Self-Care?
Why use makeup as self-care? Moms need to look and feel good about themselves.
Becoming a Mom- When I became a mom, I admit, I started letting myself go a bit. In fact, if I'm being honest this started during pregnancy when I gained over 60 pounds, eating whatever I wanted. After I had my son, I was in pain for a while and felt heavy and down. Often, I would sit on the couch with him, not getting up for hours. However, I realized I was getting into a slump, and part of the problem was I did not feel good about myself. In order to take care of my son, I needed to raise my confidence and feel like my upbeat self again.
Makeup routine – I decided to start back with my make-up routine. This was the beginning of my "mom" self-care journey. Even if I wasn't going out, I would still put my makeup on in the morning, as I used to when I went to work. This made me feel pretty again and gave me the motivation to start working out – another battle I faced. Also, I was ready to leave the house at the drop of a hat, and getting out also lifted my spirits. 
What is Self-Care in Beauty?
Self-care in beauty means you use beauty products as a form of daily self-care. Using your makeup to be expressive and creative can have a calming effect and make you experience joy. To some, watching makeup tutorials and painting on your eyeshadow is just as relaxing as an adult coloring book or painting with regular paints. It is a true form of expression and relaxing activity.
In fact, according to psychology today, not only does makeup make you feel good about yourself, others also perceive you as being more prestigious when wearing makeup.
Do you feel a bit down after giving birth?
Having a baby is life-changing. Many women go through baby blues and depression. Yet, learning how to take care of yourself after having your baby is essential to being a good mom.

Many will say, women don't need makeup and this is true. Yet, if you were a girly girl and loved makeup before giving birth, chances are you have gotten out of your makeup routine and perhaps aren't feeling great about yourself.

Some may feel makeup isn't a form of self-care, but it may be the little extra bump you need to feel good about yourself depending on your personality. Of course, we all have inner beauty, but if you were a fashionista before having your baby, you don't want to lose that part of yourself. You may need to lower your standards a bit, but you can still wear makeup, take care of your skin, and feel good about yourself on a daily basis and, mama, you deserve it.
Feeling off after having a baby is normal, but it is up to you to find your balance
If you are feeling down after giving birth, you may need to switch your routine up. Perhaps playing around with fun makeup colors and pallets will bring you joy and help you find your creative, makeup artisticy side. This can be part of your "me time" to focus on your needs and take care of your skin.
Why Use Makeup as Self-Care:
Makeup can help you feel loved!

Putting on makeup in the morning helped me feel "normal" again.

I noticed my mood started to change when I felt better about myself and since I would put on a little makeup in the morning.

I was more apt to get out of the house and explore, taking walks with my baby boy and heading out to th email.

Leaving the house also lifted my spirits and made me feel less lonely after becoming a mom.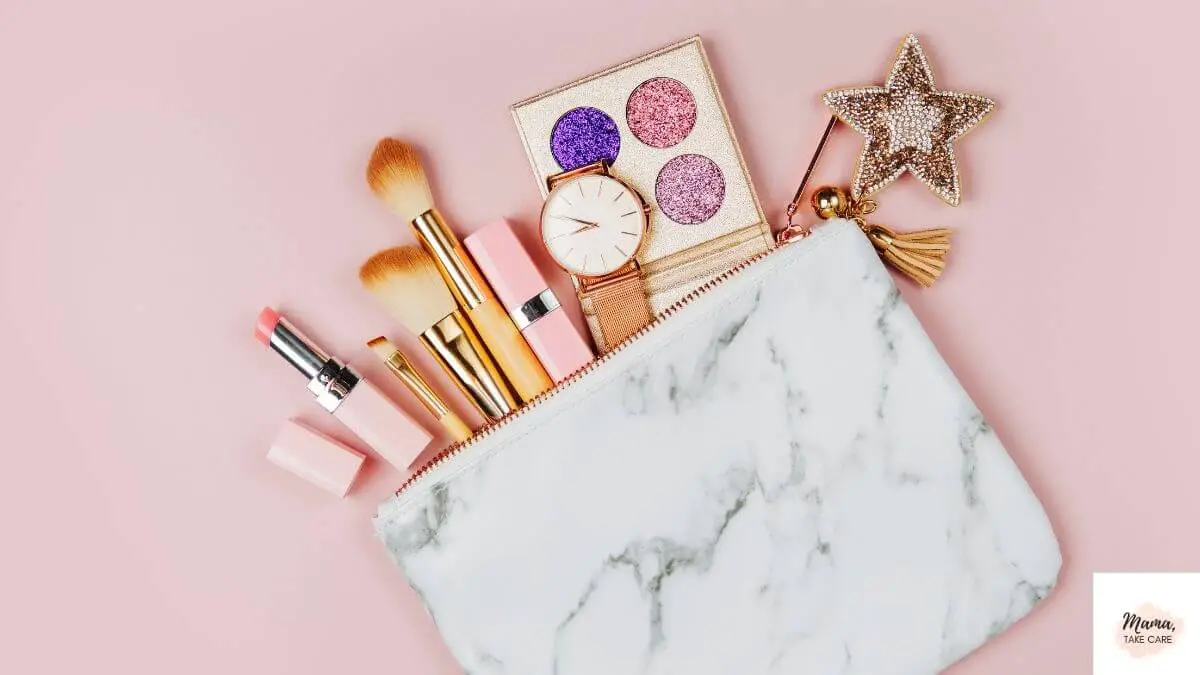 The Best Makeup for Self-Care
Of course, we all use different makeup but here are some makeup ideas to help you get a good makeup routine and find some makeup and skincare products you truly love. My favorite places to shop for makeup are Ulta and CVS since I can use coupons at both stores and usually get a good deal on the products I love.
Is Skin Care Considered Self-Care?
Taking care of your skin will help you have that beautiful glow and help you feel more confident. Think of the times when your skin was dry or itchy. You probably didn't have the "natural glow" feeling. By taking care of your skin, you also feel taken care of as a person. And let's face it, you deserve to be taken care of.
My Favorite Skin Care Routine
Garnier serum – I love this serum. It helps my skin feel smooth and fresh. I put it on at night.
Loreal Hyaluronic acid serum (I Love, love, love this stuff!!!) – I also rotate between the Garnier serum and this one. It helps plump my wrinkles and hydrates my skin.
Dove soap for sensitive skin – I've used this soap for about twenty years. It just works for me. I have combination skin and it helps keep my skin balanced and doesn't dry me out.
Loreal Revitalize cream – This is also a go-to cream for when I do have some dry patches. It is super hydrating. (Note, I do have to be careful putting this on my acne-prone areas.)
What Products are Considered Self-Care?
Any product you love that makes you feel special and taken care of is considered self-care. If you love pink lipstick, that is your self-care. If you love plumping lotion before bedtime, that is your self-care. Scented lotions, body butter, foot cream… Any of these are considered self-care.
Makeup Routine
Revlon Bronzer – This bronzer is fun and helps contour.
Loreal Makeup – I love the light feeling of this foundation. It doesn't feel at all cakey and gives just enough coverage.
Smashbox Pallete – This is my favorite palette of mine.  The eye shadow stays on and has great pigment.
ULTA Top Seller – Urban Decay Naked3 Palette
I also love my Naked3 Palette. It has some pretty natural tones for everyday looks and will look good on most. skin types.
MAC Cream Cup Lipstick – This is my go-to lipstick. It is super hydrating, pigmented, and stays on long. -worth the money (although I admit, I use coupons to buy it! )
NYX Lipgloss – If you are looking for a cheaper alternative to MAC (my favorite lipstick brand) try NYX. It is superb for a drugstore lipstick or gloss.
Make sure to check out all of your beauty and skincare needs at my favorite makeup store (think coupons and sales) Ulta Beauty.
Are you ready to take your self-care to the next level? Check out the Self-Care Spa Journal in the shop!
Common Questions/FAQ About Beauty Self-Care
Question 1: Do I really need makeup to feel good about myself?
No, but if you are a makeup girl, it can help.

If you enjoy beauty and colors, it can brighten up your day.

You can shop around online and find makeup you love and enjoy.
Question 2: Why does taking care of my skin help me feel confident?
Having clean, clear skin can help you want to go out and face others.

Healthy skin can help improve self-confidence
Having moisturized skin help you feel better.
Makeup can be your go-to form of self-care!
Of course, it doesn't have to be, but for me using my make-up was a game-changer in my mood and overall feeling of confidence. Since I started using makeup around age 14, I felt a bit off on the days when I wouldn't use it and also forget to shower. (Hey – If you are a mom you know what I'm talking about!) By using my makeup, I had a daily reminder to take care of myself and I was fresh and ready to face the outside world.  If you are a makeup girl like me ( and not everyone is which is totes fine too) and you just had a baby, try getting back into your makeup routine and spoil yourself with something new!
What is your favorite, must-have makeup product? Share in the comments below: